DAY ONE – Thursday, 21.12.2017 / 20:00h

1.

Corky / USA / Ty Primosch / 2017 / 5'45"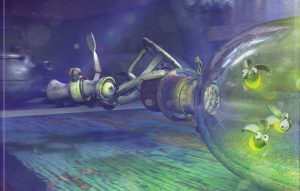 A corkscrew with a screw loose battles a giant glass bottle to uncork seven magical lightning bugs trapped inside.
2.

Grandpa Walrus /France / Lucrece Andreae / 2017 / 14′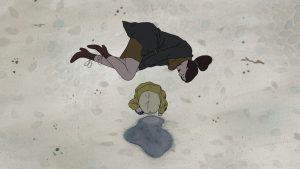 On a dark and windy beach, Grandma prays, Mom screams, his sisters don't give a hoot, and Lucas is alone. Grandpa was a strange guy, now he's dead.
3.

Author and the Nose / Zanna Abasova / Kyrgyzstan / 3'14"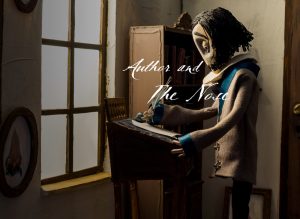 Author and The Nose text it is about the struggle of artistic production and exhaustion of a writer without a nose. I tried to express the inflated, hollow personality as a Nose which is consume the pure talent.
4.

Fragmented / Anne Zwienner / Austria / 5'3″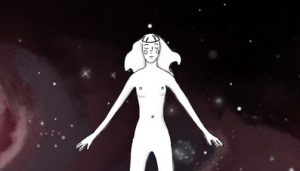 What is reality, what is illusion? After a motorcycle accident the reality of the protagonist turns into fragments. Memories and real events merge with surreal hallucinations that are linked with her stay in the hospital and the strong medication that she gets there due to her horrible injuries. Dreamlike images become part of a terrible foreboding and sensations that are connected with the operations she has to undergo.
5.

A Wonderful World / Eli Bastiaens / Belgium / 5'53"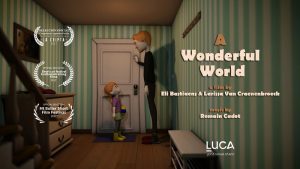 Little Layla would like to play outdoors but is hold back by her overanxious father Dave. By way of a self-made marionette puppet theatre Dave teaches his daughter about the scary dangers outside. Are we still living in a 'Wonderful World'?
6.

Eluvium – Regenerative Being / Stas Santimov / Ukraine / 7'21"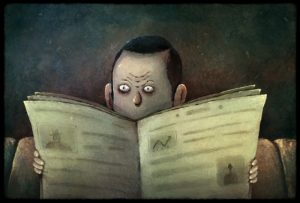 The official music video for "Regenerative Being" by Eluvium.
A lonely man finds himself in a strange place where everything is planned in advance for his arrival.
7.

The Street of Anfok / Zilai Feng / USA / 2016 / 3'32"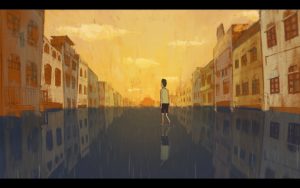 A paralyzed man who always stays in bed and looks through his mirror at the window of his room, encounters something different in a rainy day.
8.

Playhouse / Yu Yu / Taiwan / 2016 / 2'43"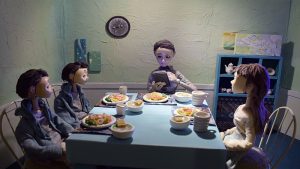 The whole family is waiting for the father to come home for dinner. Yet when the father finally gets home, he focuses on nothing else but the screen he holds, until he sees another family's picture…
9.

Cigare / Tom Tassel / USA / 2017 / 05'40"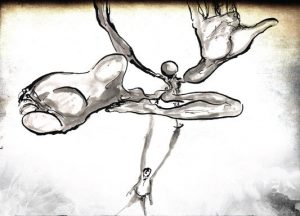 A drop of water meets a drop of oil and they start dancing. They shape into continuously morphing characters, and build up a choreography alternating elegant and gracious moves with grotesque and surreal contortions. Set to music with no dialogues.
10.

Museum Guard / Alexander Gratzer / Austria / 2016 / 2'49"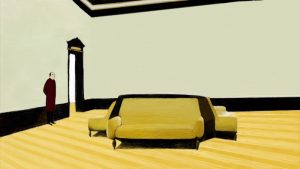 What does a museum guard do when he thinks no one is watching? He stands around; stays stoically at his post; is motionless, silent. A static take, a barren space, a character, an incredible voice – a moving snapshot. A minimalist action film that celebrates the little things – filled with charm, emotion, and beauty.
(Michelle Koch – Diagonale 2017)
11.

General Dupont in General Dupont doing Laundry /Thu Vu Kim Nguyem / USA / 2017 / 2'40"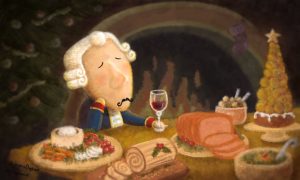 A caricature of wealth and domestic life: General Dupont, an 18th century aristocrat, doing a household chore – laundry, on a stage.
12.

Darrel /Marc Briones Piulacsh & Alan Caeabantes Person / Spain / 2016 / 3'00"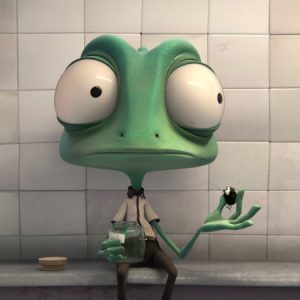 Exchange of glances in the metro. How many opportunities have you let slip? Darrel will do everything possible to not let escape this one…

DAY TWO – Friday, 22.12.2017 / 20:00h

1.

The Ogre / Laurène Braibant / France / 2016 / 9'41"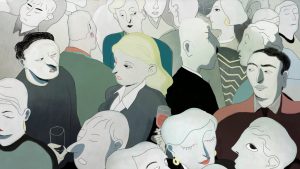 Full of complexes because of his size, a giant holds on eating terrified at the idea of revealing his grotesque self and so compromising his place in the society. During a business banquet, his true nature will be put to the test.
2.

The Pocket Man / Ana Chubinidze / France / 2016 / 7'00"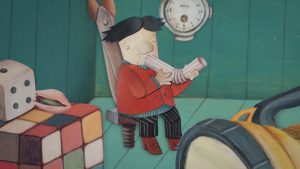 A little man lives in an old suitcase. One day he finds a new friend – an old blind man. The little man jumps into the blind man's pocket. With music, the pocket man helps the blind man walk and see things in the street. Both are very happy together.
3.

The Blissful Accidental Death / Sergiu Negulici / Romania / 2016 / 15'05"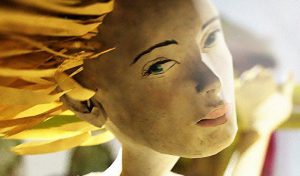 Entering an antique shop, a young man finds an intriguing drawing which is hiding a secret love letter on the back, written 70 years ago. After finding out that the author of the drawing is still alive, 105 years old, and persuasive in finding out if the story is real, the man goes on an unusual journey to meet her, the painter who befriended many important Romanian artists at the beginning of the 20th century.
4.

[0] / Mario Radev / UK / 2017 / 6'34"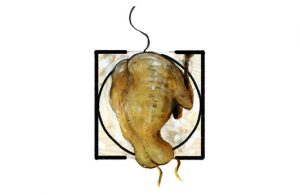 [O] is a film that imitates nature in its manner of operation. The animation depicts cycles in a world entirely based on sound frequency and vibration.
5.

TIS / Chloe Lesueur / France / 2016 / 9′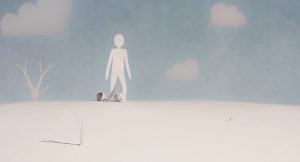 A still, blank sheet of white paper. A silhouette appears delineated beneath its surface. Here is our hero, TIS. He struggles and manages to free himself from the sheet of paper, but his feet remain attached to it. In the distance, he sees a crowd of beings similar to him. TIS tries to catch up with them but the sheet of paper he is attached to hinders his movements.
6.

Baba & Son / Deniz Zagli / Germanu / 2016 / 5′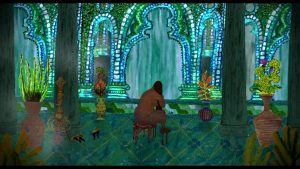 When a father notices that his son is beginning his own sexuality, he tries to bring him to his senses with a trip to a Turkish Bathhouse. On arrival the son is not enthusiastic about the relaxation program, but his mood lifts when he realizes the women's department is not far away.
7.

Too Tame / Rebecca Blöcher / Germany / 2017 / 6'41"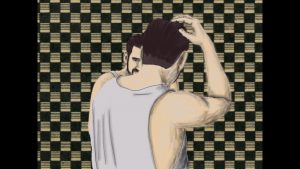 Seven protagonists, stuck inside the box, are trapped in their clichés and their recurring daily routine. Their individuality is only an apparent one, because far too easy their autonomy can be taken away – even if they gamble with life. But show must go on and money is rolling in. Applause!
8.

Ragnarok / Johan Oettinger / Lithuania / 2016 / 7'48"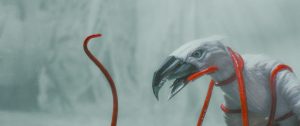 The storm is coming. The Eagle is captured by the spirit of the doom. A bullet is fired to the eagle's fatal battle.
9.

Despair / Nikole Hidalgo / Canada / 2017 / 3′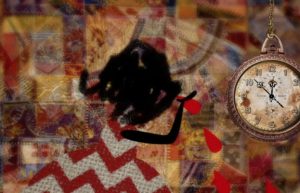 Multi-technique animation that circles ideas of access to safe abortion through imagery.
Contains audio samples of male politicians and public figures from the USA and Peru talking about women's ownership over their bodies.
10.

Hollow / Olivia Pecini / USA / 2016 / 2'48"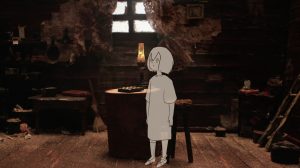 After a crippling dust storm, a child and her pet rooster grapple with starvation.
Inspired by true events.
11.

Walleyball / Kaveh Sistani / Iran / 2017 / 3'09"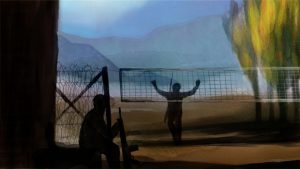 One soldier has sat down in a border outpost. Thereafter the soldier of the neighboring country invents him to play volleyball. They play together. Suddenly a warplane comes and drops bombs…

DAY THREE – Saturday, 23.12.2017 / 20:00h

1.

Wicked Girl / Ayce Kartal / France, Turkey / 2017 / 7'59"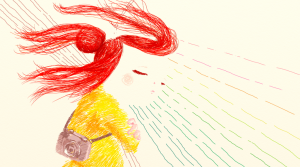 S., 8 years old, is a little Turkish girl with an overflowing imagination. She is keen on nature and animals. While she is looking back on the good old days in her grand parents village from hospital room, dark and terrifying memories emerge and, little by little, begin to make sense.
2.

The Fish of Memory / Konstantinos Vachlas / Greece / 2017 / 8'22"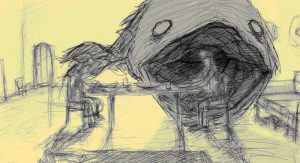 An old man is swallowed by a fish and he travels through his memories.
3.

Stroke / Jiani Zhao / UK / 2017 / 4'59"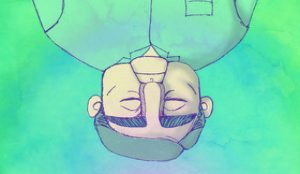 One day in a hospital room, an old man recall his experience of having a stroke in his home. Started with a strong headache, consequently the symptoms of the stroke alternate with peculiar vision he has regarding himself and the reality around him.
4.

The Wind Suddenly / Edris Samani / Iran / 2017 / 8'2″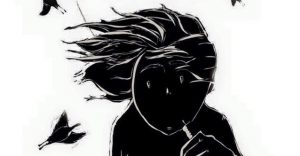 A father goes hunting with his son, but the latter becomes sad because he does not want to kill birds. So he'll try to save them with his kite.
5.

Travelogue Tel Aviv / Samuel Patthey / Switzerland / 2017 / 6′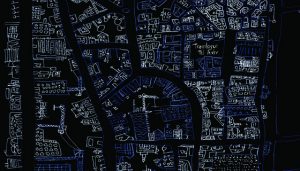 A young art student from Switzerland arrives for six months in Tel Aviv.
Through drawing he will learn to analyse, understand and free himself to this contrasted environnement.
6.

Hunted / Yen Hsun Chen / Taiwan / 2017 / 4′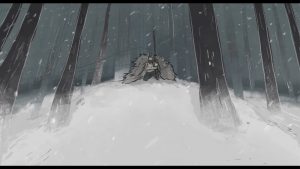 What can happen in life that leave pain so sharp that the scars were left deep through one's bones? What kind of mistake one could have done so the scar had become the constant punishing pain?
7.

My Man (Octopus) / Stephanie Cadoret / 2016 / France / 8'49"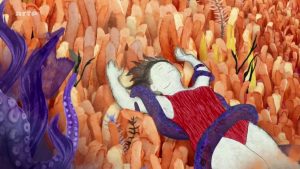 A young woman comes back home. She gets undressed, puts on her swimsuit, and sinks into the underwater depths of her apartment. Overcomed by a baroque aquatic flora, her home has become the ecosystem of her spouse: an octopus. Until the following morning, she complies with this hostile, wet and suffocating environment that is now her everyday life with her man (octopus).
8.

A New Message / Gao Junxiong, Gong Qian / China / 5'11"



We live in a world in which anyone can launch a war–using social media. This short film is a comment on the blind attack on people online.
9.

Between 0 & 1 / Vinicius Acioli / Brazil / 6'29"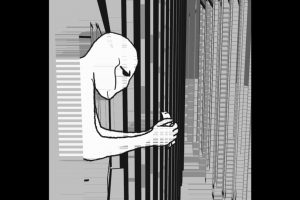 The mutual understanding of two people becomes hindered by their lack of communication, difference of age, way of life and the fabric of their existence.
10.

Absorbed / Dimitris Armenakis / Greece / 2017 / 8'27"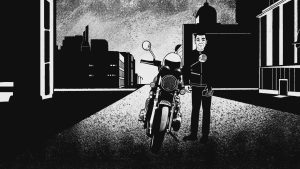 A man is leaded to a mysterious house. As he follows the signs given, he is making a journey of no return.

DAY FOUR – Sunday, 24.12.2017 / 20:00

1.

The Burden / Niki Lindroth von Bahr / Sweden / 2017 / 14′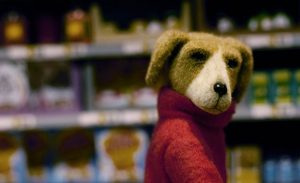 A dark musical enacted in a modern market place, situated next to a large freeway. The employees of the various commercial venues deal with boredom and existential anxiety by performing cheerful musical turns. The apocalypse is a tempting liberator.
2.

Fishes, Swimmer, Boats / Dmitry Geller / Bulgaria, Russian Federation / 2017 / 9'57"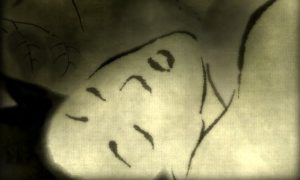 Fishes, swimmers, boats
Transform the water. The water is soft and moves
Only for what affects it…
P. Eluard
3.

Don't Wake / Evgeniia Golikova / Estonia / 2017 / 6'15"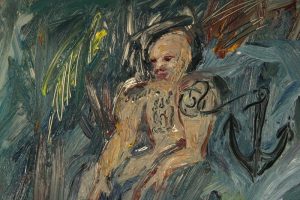 A man spent most of his life in a prison. His body fully covered with tattoos, which says plenty about his criminal past and high authority status. But at one point, the time came to leave the prison… Would it be easy for the inmate to leave his comfort Zone?
4.

The Crank / Bouslama Chamakh / Switzerland / 2017 / 3'88"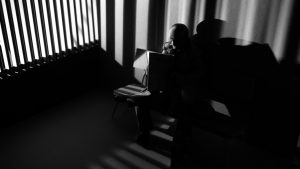 A man at the station, a suitcase, a crank… Between dream and reality, hope and disappointment, a travel on a train like no other.
5.

Steps / Alex Avagimian / Russian Federation / 2017 / 2'23"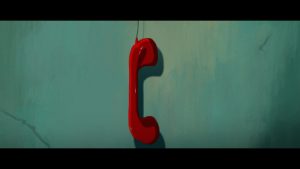 A dead clerk rises back to the position where he glances at the thief who killed him.
6.

Overrun / Pierre Ropars / 2017 / France / 7'42"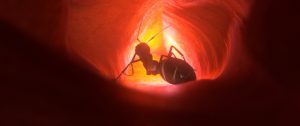 Overrun, tells the story of an ant who is plunged into a dark and cold place. We follow it's journey through this seemingly disturbing and dangerous, yet fascinating world and its quest to escape.
7.

Luring Light / Mykyta Karpov / Chech Republic / 2017 / 7'28"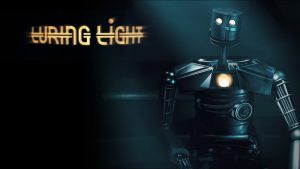 The story goes as pair of robots work on returning life to city long lost in darkness. Chasing that Luring light they will have to make a choice. A sacrifice. And a mistake.
8.

Seed of a Nation 3 / Jyotsna Puthran / 2016 / India / 3′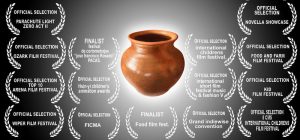 "Seed of a nation" is a film entirely made using seeds, stop-motion, time lapse & Vfx. Pulses and grams and sprouts were used in motion to create scenarios as a metaphorical representation of growth & future of a nation. A nation will be what its children will be. What a nation sows. So this film shows a magical pot of gold that builds up the malnourished child & its environment. Helping him experience the beautiful world & things. Silver lining is when the clouds appear, … but it only helps his surroundings grow even more into the absolute gift of life. Time-lapse has been used here to depict the change & growth.